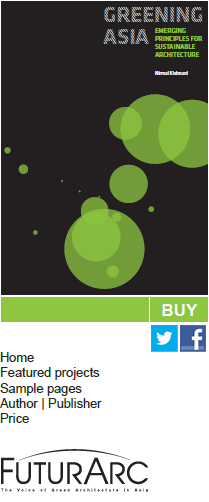 Despite a rise in the number of certified buildings, the approach to Greening is fragmented and cautious at best. The Asian Green building does not do enough to mitigate impact nor do the conventions of Greening address the diverse needs of the region and its people. An urgent rethink is needed. Asia must get past the current do-less-harm approach towards long-term, locale- and community-specific outcomes.
Greening Asia: Emerging Principles of Sustainable Architecture reports on over 30 recent projects in Asia. The author – an educator, architect and Green building expert – extracts from them six principles for sustainable design that are Asia-centric and scalable.
This book is a must-have guide for building professionals, developers and operators, also an important new text for academia. The well-illustrated layout will appeal to anyone interested in the rising tide of Green in Asia.
Copyright © 2012 Nirmal T. Kishnani
Published by BCI Asia Construction Information Pte Ltd
Supported by Autodesk Asia Pte Ltd

ISBN 978–981–07–0116–1
"(An) outstanding book offering an excellent balance between theory and practical examples and clearly highlighting the chances and the boundaries of sustainable architecture in the context of this region of the world"
Edward Schwartz, General Manager, Holcim Foundation for Sustainable Construction
"This is necessary work. Like Amory Lovins in the US, Dr Kishnani emphasises that we can do more – much more – with the resources we have, whether they be building materials, electrons, or the brains of architects, engineers, and planners. He emphasises that for our building systems to come closer to accordance with the planet, we must dispense with assembly line processes that produce the fragmentation in design and effect, and leverage the latent power of harmonisation in the building's conception and function."
Jalel Sager, Former Executive Director, Vietnam Green Building Council